Tactical Machining 80% AR-15 lower receiver review
Tactical Machining 80% AR-15 lower receiver
Price - $88
Material - 7075 forged aluminum
Finish - anodized
Color - black
Rear pocket - not completed (gen2 version is completed)
Trigger guard - none
Engravings - none
Notable features - safety selector stops
Works with the 80% Arms Universal Easy Jig - yes
Works with the Modulus Arms Jig - yes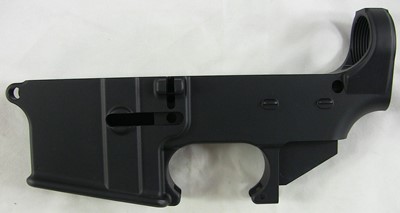 This is a standard AR type receiver made of 7075 aluminum and is virtually identical to the Anderson forged lower.
First impressions:
This is what I consider a mil-spec standard lower. It's made from 7075 forged aluminum and has the Cerro Forge keyhole mark on the rear right of the trigger guard. Everything is where I expect it to be on a standard forged lower. The finish is anodized black and is just beautiful. This what I consider the standard for black as it matches my other commercial uppers and lowers. This lower is similar to the Anderson lower but differs in that the rear pocket has not been completed (the gen2 version is) and of course it is already anodized. A raw, unanodized version of this lower is also available.
Fitment to the universal Easy Jig:
Good
Fitment to the Modulus Arms Jig:
Good
Ease of machining:
As also noted with the Anderson, the 7075 of this receiver really tests the limits of my 8" Harbor Freight drill press. The previous polymer, 6061 and A380 receivers gave no problems with the drill press set at 1720 RPM. But that speed was a no go with this material. I had to drop down to the lowest speed of 620 RPM to make any real progress. Judicious use of cutting fluid was also needed. This is tough stuff. Once I switched to the router I saw no real differences between this and the previous aluminum lowers. But when removing massive amounts of material as you do in the first steps with the 3/8" drill bit it will be very clear. If you have a lower powered drill press as I do you will want to take frequent breaks to keep your drill press motor from burning up. I have also found the key to getting through without binding is getting the speed and pressure on the bit just right when using the drill press. It takes some experience but when you get it just right it works great. I don't even use cutting fluid anymore.
Final thoughts:
This is a quality lower that is very strong and will last just like a standard AR forged lower. The machining was tougher but that's because it is a tougher material. The finish is already anodized black so no additional finishing will be necessary to match a standard AR upper. This would be my first choice if I was choosing a 7075 forged receiver as the finish is already done and looks great.
I want to note that I am very happy with the customer service at Tactical Machining. I had major issues dealing with FedEx on the delivery to the point that FedEx eventually sent the package back to Tactical Machining. Rather than charging me any type of return fee and re-ship charge Tactical Machining just sent it back at no charge to me using UPS. That's top-notch in my book because the shipping/delivery issues were in no way their fault and rested entirely on FedEx. For me the measure of a company is not whether or not you have a problem but what the company does when you do have a problem. And this problem was not even their doing but they still put the customer first.
80% lower receiver comparison chart